Whitening Membership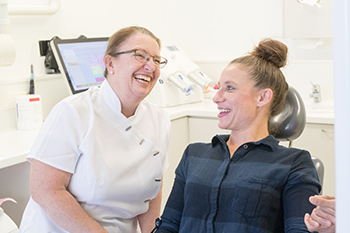 All our patients are welcome to join our Great White Smile Membership.
Firstly, as a thank you to our loyal patients of our practice we offer everyone to have your teeth whitened for $149. Just let us know if you would like to join this whitening membership. Along with this we will give you whitening products to keep your teeth white every 6 months.
If you wish to also be a loyal patient…
New patients will also be offered this membership once you have had a comprehensive examination and your mouth is healthy. A healthy mouth is always necessary before any whitening procedure.
We will provide you with custom whitening trays and materials for a one-time enrolment fee of $149 (This represents a saving of more than $400!). Then, at each six-month preventative appointment, we will give you a complimentary whitening gel touch-up kit. This kit can help you maintain your gleaming white results so you can smile with confidence.
Zoom Whitening is also available. It costs $900. We will offer zoom whitening patients the option to join our Great White Smile Membership complimentary if you wish to join the programme too but would like a zoom whitening one-hour treatment!
Membership Conditions
To qualify for complimentary teeth whitening here is what you should do:
Maintain your six-month oral health appointments. Your long-term dental health is as essential to us as it is to you. These six-month visits can help to decrease dental emergencies. Just like getting your car serviced at recommended intervals can help it run smoothly, visiting us for regular checkups can help you maintain healthy teeth and gums.
We also recommend you keep your six-month oral health appointments because we can identify and address minor issues before they become complex and expensive dental problems down the road.
Provide at least 48 hours' notice if you need to cancel or change an appointment. So we can offer fantastic services like our dental membership program to all our patients, we ask that you notify us in advance if you have any schedule changes.
START YOUR MEMBERSHIP TODAY
We are delighted to be your dental care provider. It's our desire to help you maintain a bright and beautiful smile for many years to come! Contact our friendly Falcon team for more information about how to enroll in our Whitening Membership program.

Dental Membership in Falcon | 08 9534 3800
Any surgical or invasive procedure carries risks. Before proceeding, you should seek a second opinion from any appropriately qualified health practitioner.