General and Preventative Dental Care
in Falcon
The Stender Dental Studio Difference
Our studio's sole focus is that of Dr Elvira Stender's mission for comprehensive oral health care. If you are searching for dental work that lasts, you have come to the right place. At Stender Dental Studio we take pride in crafting individualised dental care for the discerning patient.
Looking to the Future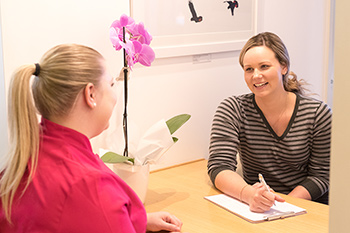 What do you want from your future smile? Are there short or long-term goals you hope to meet? When you visit our studio, you will never feel pushed into something you don't want. Rather, you plan your course of care alongside of us.
We listen.
We care.
We work to give you what you want.
Proactive and Minimally Invasive Dentistry
Hygiene and Prevention – Reduce your risk of tooth loss, decay and bad breath through gentle preventative cleaning. During your visit, we will share knowledge and tools available to boost your overall level of oral health.
Restorations – Using tooth coloured ceramic materials, we can repair areas affected by tooth decay. Not only are the results durable but they also blend in with your smile.
Ceramic Crowns and Bridges – Spend less time at the dentist's office while enjoying exquisite, customised crowns and bridges made on site in our studio. Read more…
Radiograph/OPG Imaging – Low radiation imaging provides an inside look at what is going on in and around your teeth. We have invested in the best equipment possible, so that you don't have to be referred to an offsite radiology centre for your radiograph.
Dentures – Conventional or implant supported dentures offer predictable and affordable full mouth rehabilitation opportunities.
Wisdom Teeth Removal – An impacted third molar can lead to jaw pain or tooth crowding in other areas of the mouth. Proactively removing wisdom teeth could be beneficial to your overall dental health.
Ceramic Onlays – Laboratory made restorations like onlays treat larger areas of decay without covering the entire tooth with a crown..
Feel What It Is Like to Have a Healthy Smile
Our dental studio features an in-house lab and digital scanning equipment to provide you with the most advanced and comfortable experience possible. Experience it today. Contact us to schedule your next visit.

General Dentist Falcon | Stender Dental Studio | 08 9534 3800