CEREC Same-Day Crowns at Stender Dental Studio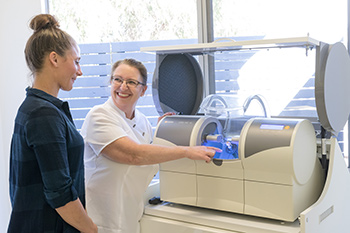 At Stender Dental Studio, we want the best for your smile. For some patients, that means crafting beautiful, appealing and high-functioning crowns the very same day. By housing an in-practice CEREC system, we can do exactly that.
What is CEREC?
CEREC stands for Chairside Economical Restoration of Esthetic Ceramics. Utilising this system, our team is able to bring you natural looking crowns the same day that you visit our practice. Simply put, you just need one visit to give your teeth a brighter, stronger and more stable smile!
Many patients opt for CEREC crowns over other options because of the following:
They're both durable and long lasting
We do all we can to keep your tooth healthy to avoid a full crown
CEREC crowns are low-allergenic and free of metal
There are no waiting periods or temporary crowns needed
More than 7 million patients worldwide have selected CEREC for their crowns since 1985
When you enter our practice for your visit, we'll provide you with a list of all costs up front so you have no surprises to expect in the future. We want to make the process as seamless and easy for you as possible-exactly like the CEREC system was designed to do.
Schedule Your Visit
We'd love to invite you to our practice to better understand your unique needs. To get started, simply contact us today. We look forward to working with you!

CEREC Same-Day Crowns Falcon serving Pleasant Grove, Wannanup, Bouvard, Port Bouvard, Dawesville & Mandurah | 08 9534 3800