Falcon Family Dentist at
Stender Dental Studio
A Dentist for Your Entire Family
Is your Falcon family searching for quality dentistry close to home? Our studio welcomes patients of all ages, including children, busy working families and our retirees.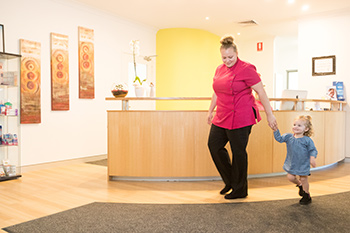 Stender Dental Studio we believe that coming to the dentist is much more than just a visit examining teeth.
It is an opportunity to educate our children, setting the theme of how our children feel at the dentist now and in the future.
We spend time with everyone of all ages by giving guidance on how to brush teeth with the toothbrush you use, whether that be a manual, electric or swing toothbrush. Patients often feel exhilarated after an appointment and say such things as "No one has ever shown me how to brush my teeth like this before."
Learning Oral Health Lessons for Life
Parents love and request us to use Triplaque to colour teeth which shows up where areas are being missed with the brush for more than 48 hours. There are always celebrations first and always areas to focus on for the next 6 months until the next visit.
Parents with young children love the Triplaque as we are providing positive reinforcement of what the parents are saying at home. A professional makes all the difference as children believe in them. Teenagers often think they are doing a fantastic job and the Triplaque helps them see what they can improve on, helping parents who are worrying about their tooth care.
Education of our children will be a lasting investment for them valuing their teeth and maintaining them for the rest of their life.
The visit to the dentist is more than learning about brushing teeth… its about what foods and drinks cause concerns with teeth and what is healthy for teeth.
Erosion is common to be found by the Dentist. Did you know that drinking lemon juice even a drop in water causes teeth to dissolve and become sensitive? We believe not in stopping habits but adapting them so that everyone gets what they want including the dentist keeping healthy teeth.
Coming to the Dentist is educational and the interactions we have in our surgery makes our patients of all ages love coming back. This is odd to our parents, many of whom are fearful at the dentist, and had negative experiences as a child at the dentist themselves.
Not Just Any Dentist for your Family Care
Dr Stender has over 20 years experience including treating children as a specialist would in a General Anaesthetic setting at Peel in the past. Many years has been dedicated to providing exceptional care.
It is very important that our children are treated as if they are a Crystal Vase. If it is broken it is very hard to put it back together again exactly the same. It is very important that we build on positive experiences for our families so that the Crystal is never broken but made to shine.
As a mother Dr Stender has also experienced what our parents are going through and understand this as well.
Family and Paediatric Dentistry
As a family dental studio, we offer comprehensive general and paediatric services that are age appropriate. Our goal is to facilitate a nurturing, friendly environment where people of all ages can feel welcome.
Contact us today to schedule an appointment with our experienced dentist.

Family Dentist Falcon serving Pleasant Grove, Wannanup, Bouvard, Port Bouvard, Dawesville & Mandurah | 08 9534 3800