Invisalign® for Falcon and Mandurah
Achieve a Brimming-With-Confidence Smile!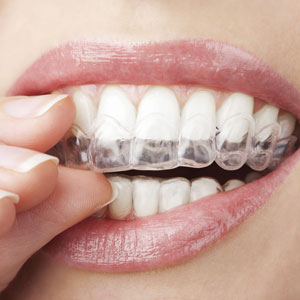 Invisalign is the leading provider of crystal clear, removable orthodontic aligners. Instead of wearing fixed braces and wires, you can straighten your teeth with these nearly invisible trays that gradually move your teeth over time.
How It Works
At Stender Dental Studio the first thing we do is take an impression of your teeth that Invisalign uses to plan out computerised tooth movement through a series of aligners.
Next, you take your aligners home and wear them 20-plus hours a day, changing out each set about every two weeks.
Third, remove your Invisalign braces during meals or for brushing and flossing. They're extremely easy to care for!
Most of our patients complete their Invisalign treatment within 12 to 18 months. During your consultation, we can let you know
approximately how long it will take to help you achieve the desired results.
Is Invisalign Right for You?
Invisalign's advanced technology makes the treatment a great option for adults and teens alike. We may recommend them if you
Want straighter teeth but prefer not to wear traditional braces
Have teeth that are crowded or crooked
Need to correct small gaps between your teeth
Wore braces before, but experienced relapse
Are planning for treatment such as a dental implant or bridge
Prefer to have an 'invisible' option to straighten your smile
During your course of care, it's essential to wear your aligners and change them out as directed. Doing so ensures the best possible outcome and prevents delays in your treatment results. Remember to floss daily and keep your regularly scheduled dental examinations.
Invisalign i7 Now Available at Stender Dental Studio!
Do you have slight overcrowding or a crooked front tooth that you would like to do something about? If yes, Invisalign i7 could be right for you! Perhaps you've had orthodontic treatment in the past, but your teeth have shifted over time, leaving you feeling too self-conscious to smile. Like standard Invisalign treatment, Invisalign i7 uses a series of clear, virtually invisible, removable aligners that fit easily and inconspicuously into your lifestyle.
While the process involved with Invisalign i7 is similar to that of traditional Invisalign treatment, with this option the treatment time is shorter so you can finally address those tooth imperfections that you've wanted to take care of, but just didn't get around to.
Frequently Asked Questions
How long does Invisalign treatment take?
The average Invisalign case takes 12-18 months to complete. During your consultation, we can provide you with an estimated timeline as it pertains to your unique bite. The time frame is based on how many sets of aligners are necessary. For that reason, more complex cases tend to require a longer period to correct.
How long do I have to wear my trays each day?
Plan to wear your alignment trays for a minimum of 22 hours per day. Take your Invisalign aligners out any time you're eating, brushing or flossing your teeth. Wearing your aligners as prescribed will help to ensure a timely and effective treatment outcome. Try to wear them as much as possible, even when you're exercising or sleeping.
There's no age cut-off for Invisalign treatment. Investing in teeth straightening treatment is also considered a comprehensive part of managing conditions like periodontal disease or TMJ disorder. Invisalign is beneficial to adults of all ages and stages of life.
Are the aligners uncomfortable?
Invisalign trays are quite comfortable, as there are no metal appliances or wires involved. The contoured shape of the aligners is fitted precisely to your mouth. The only sensation you'll probably feel is some mild pressure each time you progress to the next set of trays.
Is Invisalign covered by insurance?
If your insurance coverage includes orthodontic benefits, there's a good chance that Invisalign will be included. Our financial coordinators can determine your benefit eligibility.
How often will I need to see the dentist?
We will need to evaluate your progress on an intermittent basis, usually once every 6-8 weeks. Appointments generally take less than 15-20 minutes.
Have Questions about Invisalign?
Book a consultation with us to find out how these easy-to-care-for aligners can offer life-changing smile results. New patients are always welcome, and we have appointments available out of business hours to suit your busy life.
CONTACT US

Invisalign® Falcon serving Pleasant Grove, Wannanup, Bouvard, Port Bouvard, Dawesville & Mandurah
08 9534 3800