Meet the Stender Dental Studio Team
Our Team is Dedicated to Your Smile
Our team have all lived in the Falcon and Mandurah area for a long time. We have been a team for several years and are passionate about the care we provide our patients. Our hard work and professionalism provides you with a reliable, relaxed atmosphere that our town is known for and is evident by the warm, friendly faces you see in our studio. For us, our patients' way of life influences everything that we do.


Dr Elvira Stender (Dentist)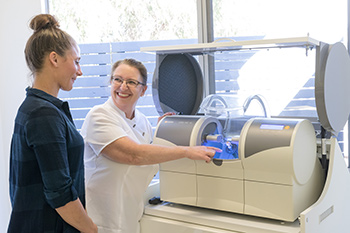 Dr Stender always has a smile on her face. If you've ever felt anxious about visiting a dentist, she's sure to make you feel at ease. An artist at heart, Dr Stender views each smile as a beautiful photograph. Blending together artistry and science, her eye for detail promises results at the same level of care she would expect for her own smile.
I look at dentistry as sculpting beautiful teeth and making my patient feel like a million dollars." Dr Elvira Stender
Dr Stender received her Bachelor of Dental Science with Honours from the University of Western Australia in 2000. In 2010, she also received a Master's certificate from gIDE/UCLA in dental implants. Her dedication to ongoing professional development and continuing education is a way of life. This shows in the fact that she was a tutor at UWA Dental School for final year Dental Students. Her passion for ongoing education motivated her towards becoming one of the Presidents of The Dental Study Group of Western Australia. She frequently meets with a Prosthodontic study club and attained a Graduate Certificate in Dentistry from the University of Adelaide.
A Unique Backstory
Prior to becoming a dentist, Dr Stender was a Registered Nurse at Princess Margaret Hospital. Her background in Healthcare provides her with a unique insight to the oral-systemic connection seen in her dental patients. Not only is she a dentist, but Dr Stender also has a Boat and Skippers Ticket. In her spare time, Dr Stender likes to relax and drive her boat around the beautiful waterways to the coffee places Mandurah has to offer.

Paige – Dental Assistant
Sarah – Dental Assistant
Kimberley – Front Office Coordinator
Hollie – Front Office Coordinator
Laura – Front Office Coordinator
Genuine, Patient-focused Care
Our professional practice enjoys caring for patients who want long-term quality care. Enjoy lasting dentistry in our quaint surfside studio. We invite you to contact our helpful team today to discuss all of your smile needs.

Meet the Team at Stender Dental Studio | 08 9534 3800