Crowns and Bridges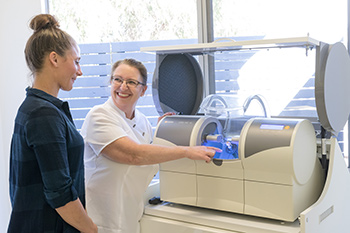 Our technology-rich Falcon dental studio offers high-quality oral health services within a convenient time frame. While caring for your smile, Dr Elvira Stender's (Dentist) goal is to always strengthen and protect individual teeth, instead of patching up problems along the way.
Crowns provide conservative and complete protection for teeth that can't be filled. In situations where a sizeable part of the tooth has broken off or a large filling needs to be replaced, a crown shields the enamel by covering the tooth instead of being put inside it. e.max® VITA ENAMIC® and zirconia are some of the materials we use for metal-free, natural white teeth. We also offer traditional porcelain caps.
The Convenience of Digital Scanning and Our On-Site Laboratory
The first step in getting your new restoration is taking an impression of the involved area, utilising digital scanning equipment. This information is directly transmitted to our in-house laboratory where your restoration is made on-site in a shorter time frame.
Traditional crowns take multiple visits to be ready. Rather than wait days for your permanent cap to be made at an off-site laboratory, we craft accurate, custom-fitted restorations out of high-quality materials here in our studio. You'll enjoy fewer appointments and durability that you can depend on.
With an on-site lab available, we can ensure a higher level of attention and efficiency during your smile design. Each of our patients receives quality restorations that we wouldn't second guess placing on our own teeth. If an off-site laboratory is required, we are proud to only ever use Western Australia's highest quality local laboratories.
Fixed Bridges Restore Function
Replacing a missing tooth requires a blend of artistry and physics. Sculpting a beautiful bridge makes it possible to fill in open areas left behind, after a tooth is removed or has fallen out. The fixed restoration uses functional crowns on each end, anchored over neighbouring teeth, to support the floating crown suspended between them.
Both caps and bridges can also be affixed over dental implants, for single or multiple tooth replacement.
Frequently Asked Questions
What can I expect from the treatment?
We provide individualised service and exceptional attention to ensure you're pleased with your results and we meet your smile goals.
How do I care for my crowns?
It's important to maintain routine oral care and come in for regular dental visits.
How long will my crown last?
This type of dental restoration should last for 5 to 15 years, and with proper care, it may last longer.
What is e.max?
An aesthetically pleasing all-ceramic system, e.max is Lithium Disilicate glass. Porcelain can be layered on it, creating remarkable translucency and a highly-realistic looking tooth that blends in seamlessly with other natural teeth.
What is zirconia?
Zirconia is zirconium dioxide, a powdery white metal oxide. As it's also ceramic, zirconia is incredibly strong, resists wear and is difficult to crack.
What is VITA ENAMIC?
As the first dental hybrid ceramic in the world with a dual-network structure. VITA ENAMICS is a new and advanced material that includes a ceramic structure infused with polymer.
Providing Personalised, Attentive Care
If you've been to other dental offices where you felt like you were rushed and viewed as a number, that's not the case at our friendly dental studio. We'll take the time to get to know you and find out about your health so we can provide holistic and aesthetically pleasing dentistry. After we've restored or replaced your damaged teeth, our studio will equip you with the tools and resources to ensure the best dental wellbeing in the future.
Contact our studio today to get started!

Dental Crowns and Bridges Falcon serving Pleasant Grove, Wannanup, Bouvard, Port Bouvard, Dawesville & Mandurah | 08 9534 3800