Contact Stender Dental Studio
We would love to hear from you! Call us 08 9534 3800

APPOINTMENTS
Need an Appointment Out of Business Hours? We see patients until 8pm by appointment on Wednesdays. We try to accommodate our busy business patients and extend our hours early morning and late evening by arrangement. If these hours do not work for you let us know.
CONTACT
Stender Dental Studio 73 Cobblers Road Falcon, WA 6210
T: 08 9534 3800
E: stenderdentalstudio@gmail.com
Office Contact Hours: 9am – 5pm
Dentist Contact Hours: All hours for our existing patients if you have a concern.
Appointment Hours:

Practice Appointment Times – by appointment early mornings and evenings.
Tuesday
9:00 am – 5:00 pm
Thursday
9:00 am – 5:00 pm

FIND US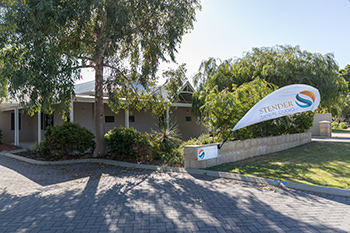 Our inviting, modern dental studio is conveniently located on the same road as the Falcon Firestation and Falcon e-Library. Look for our flags at the South end of Cobblers Street.. Call our receptionist to help you if you are feeling a little lost. It is easy to use the buses to our practice as the bus stop is immediately opposite our practice on the main road. We have many car parking areas at the clinic that are well shaded for your convenience.