Why Choose Stender Dental Studio
Our Difference
Stender Dental Studio serves the diverse smile needs of Falcon and Mandurah and those who value an exceptional dental experience.We have many patients who come especially to see us from many areas of Australia as well as overseas because of our unique approach.
Our compassionate, friendly dental team is committed to providing you with: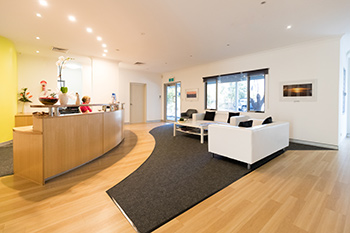 Honesty and integrity at each phase of the treatment experience.


Dr Elvira Stender (Dentist) treats each one of our patients as if they were her own family member. She only recommends treatment solutions that she would feel confident providing to one of her close friends.

Extended hours to suit your busy life.


We understand the importance of providing flexible and extended hours to the busy members of the Falcon and Mandurah communities. We know how challenging it can be to schedule your dental visit around your work and Business commitments. That is why we have made appointments available outside normal working hours.
A small, intimate environment where we can put your needs first.
We are a small, family owned and operated dental practice. There is no control by any major health fund or large corporation. Instead we are a completely independent private practice. As a private practice, we are able to spend the right time getting to know you. This gives you a quality result because we have taken the time to listen to your specific dental needs. As we get to know you better, you can be rest assured we will never rush you in and out of your appointments.

Evidence-based treatment solutions built around preventative therapies to save you time and money.


Our treatment is evidence-based and focused on minimal intervention principles. We promote preventive dentistry that will minimise the need for future interventions thus saving you time and money in the long term. We feel that it is in your best interest to maintain optimal health of yourself as a whole and your natural smile for as long as possible.

The same dentist at each appointment.


You will see the same dentist at every visit, not a different dentist every time, so when you come to see us we will know you personally and therefore be able to treat you with the best level of care. Dr Elvira Stender has over 20 years of experience so your care is delivered with a wealth of knowledge, knowing what will last and provide the ultimate result and outcome.

Local laboratories used.


We know that quality cannot be compromised and we work only with local laboratories that use strong, reliable, trusted materials to deliver a product that is above and beyond the industry standard.
When choosing a clinic a lot of people may not realise that many of the clinics in our community send their crowns and laboratory work overseas to China. The work is made at a low cost to the clinic which is not passed onto the consumer. It is not something people think to ask in relation to their Dental care and so we take pride in the fact that we use only local laboratories that only use first class materials and expert workmanship and like us stand by their work. We can therefore guarantee that the work you receive by our laboratories and us is long lasting and dependable.

A holistic approach to the health of your smile.


Your health and wellbeing is important to us. Our dental clinic has a light scent of essential oils which relaxes our patients and makes it feel and smell more inviting. In our surgeries we have your choice of your favourite television or music to make your time with us more comfortable.
Ceramic fillings and BPA free white fillings are used routinely. We are constantly striving to provide healthy products for your dental care.

Technology rich services for high quality care.


We are one of the few clinics in the area to have Cerec Technology. This means we can provide more options for your teeth which are natural, strong, non-BPA fillings to replace your amalgams or large resin composites with ceramic fillings designed onsite. Often, we can also provide this as an option instead of a crown for a tooth, preserving tooth structure. It is an advantage to offer this additional option.
We are the cutting edge of Dental Surgeries with some of our dental techniques. Our innovations are moulding the way Dentistry will be done in the future. We have a 2 nurse technique for appointments to ensure optimal care. This ensures maximum comfort and skilful delivery of your treatment without you feeling you are spending all day in the dental chair.
BOOK AN APPOINTMENT TODAY
We're proud to be your dentist. Contact us today to schedule your first visit to our Dental Studio. Our compassionate dentist and team look forward to meeting you.

About Stender Dental Studio in Falcon | 08 9534 3800