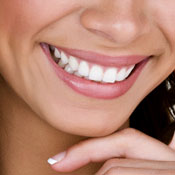 You may feel its too late to have white teeth. As we get older, grandchildren can sometimes obliviously tell us we have yellow teeth.
If anything will work to whiten older teeth, ZOOM! teeth whitening will.  Having said this darker shades may require a take-home or second bleach as more resistant to whitening.  We offer as part of the Zoom! whitening take home kits to assist with those with darker teeth.
Sometimes large stained fillings mean a different approach to teeth whitening may be required.  We are happy to discuss your particular case and how to achieve a lovely white smile again.
Frequently Asked Questions
ZOOM! whitening treatments can be completed in just one 60-90 minute sitting. When your procedure is over, your smile will be several shades brighter.
Same-day whitening treatment is ideal when you're short on time, don't want to mess with a home kit or have a last-minute event that's popped up on your calendar.
Does ZOOM! Work on Tough Stains?
Yes. Our in-house treatments are designed especially for tenacious staining and discolouration, which may not respond as well to other methods.
Your results will vary, based on factors like diet and other lifestyle choices. We offer a complimentary maintenance program to help you keep your smile white for years.
Why Are My Teeth Getting Darker?
Tooth colouration can be impacted by environmental factors, genetics, age, tobacco use, drinks (tea, wine, coffee, etc.) and traumatic injuries. Some people even see stains from swimming in chlorinated pools or taking specific types of nutritional supplements.
Can I Remove Surface Stains at Home?
The best way to remove superficial tooth stains is to have your teeth cleaned regularly. Using at-home methods with abrasive products can cause irreversible damage to your enamel.
Complimentary Whitening Touch-Ups
As part of our in-house Smile Program at Stender Dental Studio, we offer complimentary ongoing teeth whitening to help you keep your smile bright. How does it work? After your ZOOM! treatment, schedule a checkup every six months. When you're here for your preventative care visit, we'll provide you with professional grade gel to keep your smile bright between appointments. That way, you can easily lift away any stains that may have accumulated since your last scale and clean.
Book Your Treatment Today
Have we seen you in the last six months? If your smile is healthy and free of cavities or gum disease, we can book your ZOOM! whitening treatment today. Contact us now to schedule!