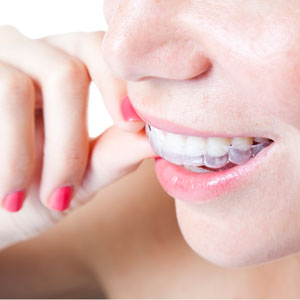 Do crooked, gapped or misshapen teeth leave you feeling camera-shy? If you want to straighten your smile but can't bear the thought of wearing unsightly metal braces, we offer a fantastic solution—Invisalign®!
Because Invisalign aligners are smooth and clear you can straighten your smile discreetly and comfortably. Metal braces, on the other hand, are conspicuous and uncomfortable. Because there are no metal wires or brackets with Invisalign, you won't experience any mouth irritation.
Just wear each set for at least 22 hours a day for optimal results. You only remove them for eating, drinking, brushing and flossing. And because the aligners are removable, keeping your teeth in tip-top condition with home care is simple!
The first step in getting Invisalign is booking a complimentary consultation.
What's Included in Your Free Consultation
An assessment of your teeth by an experienced dentist, so you know whether you are eligible for treatment.
A discussion of alternative orthodontic treatment options, based on your assessment and financial situation.
An explanation of what the procedure involves, so you know exactly what to expect during and post-treatment.
Teeth whitening for life! Once you start treatment, you will receive our teeth whitening program for life for a one-time fee of $149. (This offer is usually valued at over $1000!).
Why Choose Stender Dental Studio?
Straighten your smile for as little as $35.07/week.
Dentist Dr Elvira Stender is Invisalign certified.
With Digital Smile Design you can see the planned results before starting your treatment.
Correcting relapse orthodontics can often be done in just three months.
Get your teeth back the way they used to be.
We provide non-extraction orthodontics.
A variety of payment plans are available for your treatment including the option of a 48-month loan.
We provide free second opinions.
Take That First Step Today
If you'd like to enjoy the confidence-boosting effects of a straighter smile, contact our practice today!
CONTACT US